ProTan Overnight Competition Color
The Ultimate Competition tanning formula allows you to achieve a deep dark, long lasting tan after just one easy application. Best of allyour tan won't run or streak and fades just like a natural tan after 5-7days. This unique formula will not interfere with natural or sun bed tanning and does not contain a sun screen. This product has been trusted by fitness athletes all over the world for nearly 25 years.
Product Directions
Apply to clean skin. Spray directly onto applicator, brush over desired body areas with lighter strokes around knees, elbows, ankles and hairline. You will get an instant tan, which will serve as a guide for even application and will darken considerably within 3-5 hours. Allow 30 minutes to dry before direct contact with clothes or water. You may use up to three coats in 24hrs before showering off the excess color allowing the natural tan to show through.
Prior to application make sure you use our Get Buffed® Pre-Tan exfoliator. * This product is fully compatible with nearly all types of airbrush equipment.
Note: If you have never used Pro Tan® competiton color before we recommend to begin application of this product two to three days prior to your event to make sure you achieve the amazing color that judges love. Also try to avoid using deodorant products for a few days prior to your application of Pro Tan®.
Helpful Tips
Prior to application use Get Buffed® Pre-Tan exfoliatorThe instant color in this product is designed to work as a guide coatWe recommend applying no more then three coats without rinsingTan will darken with each applicationProduct Highlights
Darkest tan AvailableUsed since 1987Won't run, streak, or wipe awayLooks naturalTan lasts several daysRecommended by bodybuilders and fitness athletes all over the worldIngredients: Deionized Water (Aqua), Isopropyl Alcohol, Acetone (Cosmetic Grade), Dihydroxyacetone (DHA), FD&C Yellow No.6 (CI 15985), FD&C Yellow No.5 (CI 19140), FD&C Blue No.1 (CI 42090), FD&C Red No.40 (CI 16035), Fragrance.
€ 33.95
Fitnessapparaat
Pro Tan
Sport Spel Tanning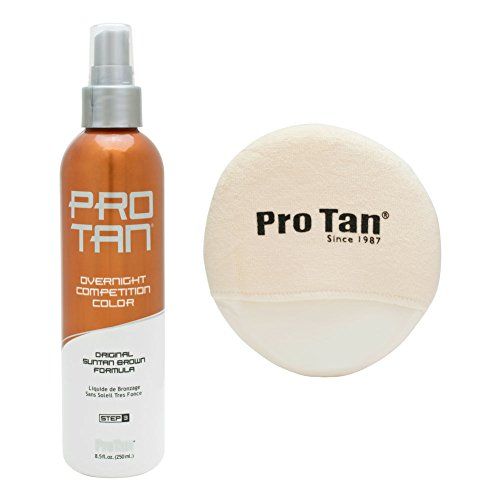 Ben je op zoek naar een zuivere, romige olie voor de ultieme bruining? Dan is de ProTan Love Hate precies wat voor jou! De ProTan Love Hate bevat een rijke vochtinbrengende olie en is een huidversteviging voor een jongere, steviger uitziende huid. ProTan Love Hate wordt snel door de huid opgenomen, zelfs als je veel haar hebt.
ProToan Love Hate is een rijke crème-achtige bruiningsolie met een hydraterend effect. Het bevat de CX2 formule die je huid verstevigd. Verder bevat deze olie onder andere L-Carnitine, Caffeïne en Coenzyme A en de vitamines A, C en E.
€ 27.95
Fitnessapparaat
Pro Tan
Sport Spel Tanning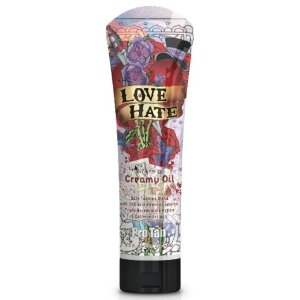 Een donkere rood-brons kleur in een paar seconden.
ProTan Hot Quick Bronze is de tanning formule voor iedereen die op zoek is naar een rijke gezonde kleur met een natuurlijk hitte effect. Het rode effect komt door een stimulatie van de huid. Je ziet er niet alleen uit alsof je in de zon hebt gelopen, maar voelt je ook zo. Deze kleur werkt op alle huidtypes. Het maakt je natuurlijke kleur donkerder op een gelijkmatige manier. De matte glans van ProTan Hot Quick Bronze is ideaal voor een omgeving met veel (fel) licht.
Quick Bronze heeft een exclusieve waterbestendige samenstelling die niet uitloopt. De vochtige substantie is gemakkelijk aan te brengen en ziet er met één laag al fantastisch uit. ProTan Hot Quick Bronze droogt niet volledig op, waardoor het er heel natuurlijk uit ziet. Gebruik latex handschoenen om je met ProTan Quick Hot Bronze in te smeren. Wrijf een dunne laag over het gehele lichaam. Laat de kleur intrekken en veeg daarna de ProTan weg met een handdoek. Kijk uit met kleding na het aanbrengen van Hot Quick Bronze. Omdat het niet volledig op droogt kan het afgeven.
€ 14.95
Fitnessapparaat
Pro Tan
Sport Spel Tanning